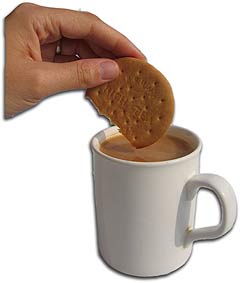 My son, when asked for one of those completely gay Facebook memes what he thought I did at work, answered: "Put your shoes on and say goodbye goodbye goodbye."
My wife, my friends, my family and the cat next door probably couldn't do much better by way of explanation.
I am 'an SEO'. This stands for Search Engine Optimiser and is probably best described as:
"A person who tries to ensure that a website appears as high as possible in Google when someone types in a relevant search term"
Or something. There's been loads of attempts by loads of people down the years to provide the definitive definition, but inevitably it descends into some kind of farcical argument between various groups of purists of one kind or another and it's terribly tedious and, ultimately, no-one really gives much of a shit. Think "People's Front of Judea" vs. "The Judean People's Front", only with finer nuancing and less humour.
I can, however, describe what I do. And how I got here.
I look at my clients' websites
Google is looking for various quality signals when it decides which websites to show you when you carefully type "where can I see a chimp getting a blowjob off a frog?" Because I know what these quality signals are, I maybe look at a website in a different way to Jo Schmo.
Once I've finished chortling/gagging  at displays of inter-species oral sex, I would look at the way the site was coded. How its pages were organised. How the pages titles described its content. How the content was written and presented. Which other sites linked to it and in what format and why.
Quite often, independent of the work of an SEO, other departments want to do things with a website so the work is literally never finished. One day, the MD wakes up with a vision – that his website should switch to a navigational system based on a series of vertically arrayed images of his favourite mammals. In such cases, I have to sigh and wade in to battle against the various designers, developers and dunderheads responsible and gently explain why Google is hatin' on dat shit.
I search on Google again and again and again
Google's results fluctuate pretty frequently on a scale ranging from "exactly the same as 3 months ago" to "holy shit! What are they doing there all of a sudden?" Those changes can themselves be quite instructive as to what Google are looking for, so an SEO would be well-advised to just keep searching to see the patterns that emerge.
I look at the rest of the whole damn internet
This is the part that baffles my friends, who must sit in their tedious offices, with all the wonderment and opportunity of the internet placed off-limits by middle management, fearful HR departments and timesheet-obsessed overlords. I have a superfast internet connection and the remit to use it.
"Why," they ask me plaintively "do you know every bloody website in the world?" The answer is, of course, because I need to. Anything that might – however vaguely – be relevant to my clients, spark an idea or inspire a new avenue of exploration could be of use and until you've dicked around with it a while you just can't tell.
This is probably the reason behind the second most commonly heard question from friends: "do you do any fucking work whatsoever?"
I write stuff. Lots of it.
Part of what I do is to write on Dave's blog. As much of the business we win depends on our reputation, keeping the blog topped up with regular opinion pieces, advice or even just fun rants about nothing in particular means that people engage with us.
Then I write content for my clients. Sometimes news stuff that goes directly onto their site, sometimes bits of fluff that go on to other sites to help promote them.
And then there's reports and ad-hoc pieces of analysis. When their site has dropped in the rankings for 'chimp/frog oral sex' I might go through the site structure and the rankings again to find out why the drop occurred. And that means producing some kind of explanatory document.
I build links
Link building is one of the blackest of black arts. Right up there with goat sacrifice, blood rituals and cooking the perfect soufflé. Suffice it to say that if I want my clients to rank, then I must get other websites to link to them. That means phonecalls, emails, poking around their site infrastructure and technology and – sometimes – shadier practices that exploit weaknesses in a website. It can mean spending two hours reading a comment thread about botox for crabs and thinking of an angle by which I work in my client's name in a legitimate way.
Plus loads of other stuff that I can't discuss here in case anyone's listening.
I rant randomly at the office
I'm lucky enough to work in an office that thrives on banter and an easy-going atmosphere. I once got offered a job as a web designer in Sheffield by a really very reputable company – no false modesty here, I was once a total king of CSS. I turned the job down (prompting a bizarre response from the employer) and one of the absolutely defining factors in my decision was how fucking deathly the office was.
The interview spanned an entire day, during which I was sequestered at a workstation-cum-desk arrangement with the rest of the team. During my 6 hour stay there, not a soul spoke. After a while I began to get the prickly sensation that I'd somehow fallen into that TV-series where the frecklesome girl could stop time by touching her fingertips together.
Anyway, in the Bronco office we talk about topics such as ******* and (even ********!) all the time. Risqué, but fun!
I Eat Biscuits and Drink Tea
Among the many attractive features of my current workplace is a free, almost limitless, supply of biscuits. From the humble fruit shortie to the full-blooded magnificence of the chocolate digestive and including excursions to dowdy old custard creams and the refined elegance of the Ginger Crunch Cream, the Bronco biscuit barrel is enough to make any hungry SEO's day complete.
All of this is, of course, washed down with hot, sweet tea – the stock-in-trade of the British working man.